Street Grind Ent & SGE Canada www.SGERADIO.com www.DJTNYCE.com
Our Latest Interview Stream
https://anchor.fm/s/8e93761c/podcast/rss
LET THE SKST & SGE RADIO NETWORK

SHOW YOU HOW IT'S DONE!​
​Take a Look at Our Season 3 Small Business Network Line-Up
SKST Radio Artist Network with Kami Grayson and Theodore Chestnutt




SKST Radio Network 1-on-1 Entertainment with Kami Grayson and Director Louise Hogarth - ELEPHANT REFUGEES

S2-E (83122)

Director Tory Jones

Kami Grayson will interview Director Tory Jones, and starring Halloween's Dale Miller, beware Wicked Ones this September!
Evil multiplies in this follow-up to 2017's sleeper hit The Wicked One. Set a decade after the events in the first film, survivors Adam and Alex return to Carpenter Falls with their three children - only to be thrust into another confrontation with The Wicked One and two crazed copycat killers.
Morgan Pyle, Chris Hahn and Lucas Dunaway star in a frighteningly fun mesh of Friday the 13th and The Strangers, Wicked Ones premiering on VOD 9/13 followed by a Special Edition Blu-ray on 11/8/22.​
S2-E (82522)

Actress Francesca De Luca
Kami Grayson will interview the wonderful English actress Francesca De Luca. DeLuca, whose credits include Francis Ford Coppola's Live Cinema film "Distant Vision" ( 2016), Laffmob's Lafftracks( 2018-19), Passports (2016), Duck World ( 2017), Down and Out ( 2015), Jeremiah Tower The Last Magnificent ( 2016), Good Mythical Morning ( 2018), Storage ( 2022) and WHAT A GIRL WANTS (2003) with Amanda Bynes and Colin Firth, next appears in "Storage", a short psychological thriller about a woman and a high school cheerleader trapped in a storage facility. The film is screening at the LA Shorts Fest this month.
De Luca working on the thriller, "Working with writer/ director Colin Costello on "Storage "was wonderful, Having seen his previous work and after doing the table read, I knew I could trust his direction and vision for the film. He knew that he could trust my instincts on the character too, which he said were on point right from the first table read. He was more than happy with what his talented cinematographer Dave captured of me after only a couple of takes."
S2-E (8622)

Authoress Dr. Danita Hayes
Kami Grayson will interview Authoress Danita Hayes, Danita is the wife of Chris Hayes, Sr. and mother of three children, Nadia, Nia, and Chris Hayes, Jr. She is a Kingdom Entrepreneur and owns a diverse portfolio of businesses. Danita began her entrepreneurship journey as a real estate broker and today co-owns a real estate firm that has two branch offices. She also co-owns a cafe that has two locations and several real estate investment companies. Danita recently started a movement called "Women Flip Houses, Too", which was created to teach women all over the world how to invest in real estate and build wealth for their families. The Women Flip Houses Too movement has allowed Danita to pour into thousands of women and give them the tools to be successful real estate investors. Danita is passionate about inspiring women to execute their vision by focusing on God first and allowing Him to work through them to accomplish their goals. She also created 21 Days of Encouragement, an interactive journal for women entrepreneurs to encourage and guide women to reach their entrepreneurial goals. Danita uses Matthew 6:33 as the blueprint for how she lives her life: "Seek Ye First the Kingdom of God and all of His righteousness and all these things will be added unto you". called!
S2-E (8422)

New Movie Camping Trip


ON DIGITAL August 16, 2022
Kami Grayson will interview Director and Producers Leonardo and Demian Fucia's terrifying English-language debut CAMPING TRIP, a sinister mesh of CABIN FEVER and WRONG TURN, premiering on digital platforms on August 16.
Debuting on Digital On Demand August 16
FAR FROM COVID FAR FROM SAFE
Fuica Film Pictures and 8Cube are delighted to share the new trailer and poster for their upcoming horror, Camping Trip. The sinister thriller will be available on Digital Download from 16th August.
Camping Trip stars Leo Zola (Leonardo Fuica), Caitlin Cameron, Hannah Forest Briand, and Alex Gravenstein and is directed by Leonardo and Demian Fuica, who both make their English language feature-length directorial debuts.
In the summer of 2020, two couples decide to go on a COVID-era camping trip after months of being in lockdown. The freedom of nature and the company of their best friends offer the group a rare sense of normality, but though secluded, they're not alone. Nearby, during a botched drop-off, two goons decide to go rogue; inadvertently, implicating the campers. What started as a fun-filled vacation quickly turns into a test of loyalty and survival. Suddenly the pandemic is the least of their worries.
The film was shot during the height of the pandemic in 2020, meaning requiring strict health and safety procedures were required, but this was not the only obstacle to overcome as the shooting was also forced to halt for a day when a scene sounded so real to the nearby member of the public, the police were called!
S2 E20

A TRUE STORY BOWEN'S HEART

ON DIGITAL JULY 14
The powerful new documentary BOWEN'S HEART, an official selection of the Nashville Film Festival, has been acquired by Global Digital Releasing for release on July 14.

BOWEN'S HEART offers a deeply vulnerable view of how chronic illness impacts an entire family. This feature-length documentary film follows, (a then-eight-year-old Bowen), through his third major open-heart surgery as his parents struggle with the hope that the surgery could make his life better and the knowledge that it could make things much worse.
S2-E (82722)

Director Timothy Stevens
Kami Grayson will interview Director Timothy Stevens to talk up his upcoming sci-fi film THE GHOST LIGHTS, in which a journalist returns home after the death of her father and discovers a mysterious cassette tape describing strange disappearances and mysterious lights appearing in the skies of West Texas. Coming August 26 A NEW X-FILE OPENS!
THE GHOST LIGHTS
(Apologies for the poor video quality of Mrs. Grayson)
S2-E (82022)

Author Dr. Donald Hudson
Kami Grayson will interview Author Dr. Donald Hudson Author of Life compassing is about following your true path to the awesome destiny you are created for, regardless of your past or your present circumstances. Partner with me on my life compass journey with the book, Life Compass: Finding Your True North, along with the accompanying Journal Workbook. For your copy contact the author at [email protected], Amazon, and Barnes and Noble.
S2-E (81822)

Creator & Actress Shelley Smartly and Producer & Actor Floyd Strayer

Kami Grayson will interview Shelley Smartly and Floyd Strayer, the amusing duo behind the new comedy series THE SMARTLYS (now available on TUBI).
The newly released, award-winning San Diego-based streaming comedy TV series tells of a couple, Eric and Shelley Smartly, who wins $300 million, retire as King and Queen of the Minnesota Renaissance Faire, and buy their son's luxury beachfront complex in La Jolla. Everyone schemes, nonstop, to inherit the Smartly fortune!
Winner of Best Web/TV Series in the 1st Monthly Film Festival, the feel-good series has been lauded for its passion and laughs. It recently completed its first season, now streaming, and they're in development on season two.
S2-E (8622)

SKST Radio Network Authors Network Authoress Jude Fisk

SKST Radio Network Special Guest is Jude Fisk …
Jude Fisk Grew up in Quincy, Illinois which was about 4 miles long and 3 miles wide. I had 5 brothers and no sisters to my dismay. Far from being treated like a princess by my brothers, they were annoyed to have a sister they did not request.
It seemed that it was easier for my mother to bond with my brothers. My dad had chosen to name me Judith Ann after the most beautiful woman in the world… and it wasn't my mother. I was doomed from day one! That was probably why I never liked my name. I was happy to adopt the shortened version of "Jude" that my friends gave me in junior high.
The lack of a close relationship with my mother had the unexpected benefit of allowing me to find closeness with my grandmother Helen (my mother's mother). She didn't have much patience for you until you reached the age of twelve when you became "interesting" to her. She only lived a few blocks away and I visited often spending Friday nights with her as much as I wanted.
Our relationship lasted until her departure the year I started college. No one could understand the deep grief I went through, not realizing that she was more like a mother to me and certainly a best friend.
I adored her wit and sense of humor AND … she was psychic! The year my brother went to Viet Nam during the height of the war was when she introduced me to Captain Uncle Ben, a spirit who visited her during the night telling her he would look after my brother. During that year, I would race to her house to find out what Uncle Ben had said and if there were any letters from my brother.
The war wasn't like today where you have cameras and cell phones. Letters were few and far between and the news we did have was 3 weeks old by the time it made the headlines. My brother made it safely home and we made it through the year comforted by Uncle Ben's promise to stay with my brother throughout his "hitch".
I married and had one son who is a scientist. How funny that his mom should be psychic. He leans more toward things he can replicate in an experiment but also knows his mom would never lie or make things up. I also have two grandchildren and a lovely daughter-in-law.
I'm single today and strive to be loving and kind to everyone I meet and make the most of what each day brings. I moved to Kansas City the year I turned 50 and work full time as an executive admin and even though I could retire, am so much happier working and being around people. I probably won't ever really retire.
I only write a few hours a week, mulling over ideas for the book in between. I let the ideas come to the surface during the week and by Friday night, I'm ready to put them together. It's a nice relaxed pace. Book number three is in progress and I hope to have it ready by Christmas this year.
I believe we are here to love, guide, and encourage each other no matter what we do or where we live, whether we are rich or poor, the boss or the employee. We all have the power to make the world a better place one person at a time.
SKST Radio Network Real Talk with Kami Grayson & Friends! Topic Human Trafficking Gloria Fobbs

Special Guest: Gloria Fobbs, LMSW is a native of Dallas, Tx. She is a graduate of Southern Methodist University. She obtained her master's in social work degree at the University of Texas, Arlington. Gloria has more than 30 years of experience in child welfare/foster care and nearly ten years of training in trauma-informed care. Gloria is passionate about working with families and children to break the cycle of abuse and neglect and to promote safety, well-being, and permanency.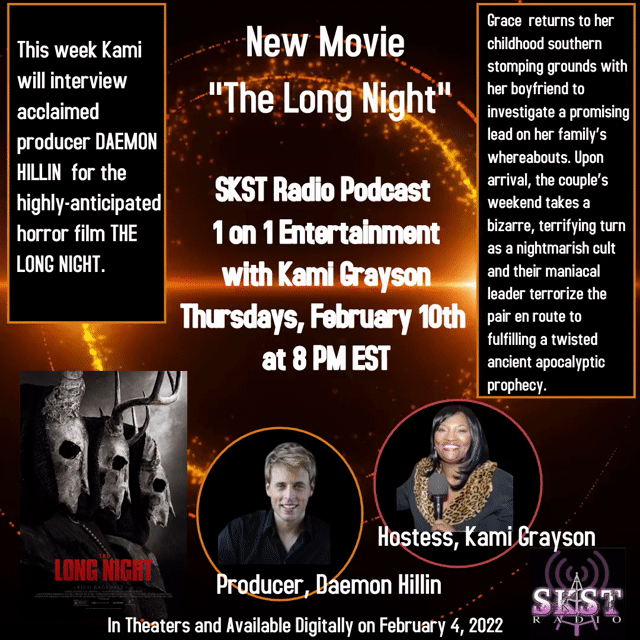 SKST RADIO NETWORK. View Our Weekly Schedule Shows. Real Talk with Kami Grayson & Friends. Saturday's 11:00 am. Author's Network. Saturday's 12:00 noon. 1 on 1 Entertainment with Kami Grayson. Thursday's at 8:00 pm. Tune In Live Weekly. Keeping It Real with Real Talk.
We offer Raw Talent Live, Girl Talk, Men on the Move, Poetry Corner, and Drama Network! SKST Radio Network™©
B2B Networking. We are looking for New Air Personalities, Hosts & Co-Host, and Engineers. Please Join Our Rapidly Growing Team!
Hello, Podcast Fans and Fannett's!

My name is Kami Grayson and I'm the founder of SKST Radio Network & Podcast Studios- a new podcast production studio that specializes in helping individuals and businesses to launch and improve their podcasts so they can build and grow their audience.
If you have been thinking about starting a podcast and you're not sure where to begin, or if you need some clarity and understanding of how to start and publish a podcast, then this guide is for you!
I have personally struggled with understanding many of the steps that are involved in producing and launching a podcast, but after many trials and errors, I have figured out a simple step-by-step solution to produce a successful podcast launch. I am more than happy to share with you this guide, so you do not have to go through the same headaches I had learning this process.
What you will learn in this guide:
● Podcasting Equipment: Where to Start and What to Choose.
● Recording Your Podcast: Solo or Interview Style
● Editing Your Podcast: Best Software to Use, Free and Paid.
● Podcast Hosting Services: Why and How?
● Distribution: Get your podcast on Apple Podcast and Spotify!
● Promotion and Growth: Building an Audience and More!
Happy Podcasting!
Kami~
Thank you to our Sponsors
Please support our sponsors!
/